Walker County Community Action Agency, Inc.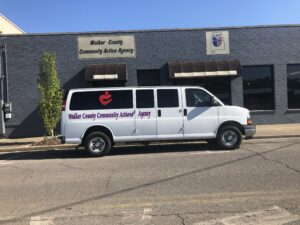 WCCAA SERVING WALKER COUNTY, ALABAMA
Office hours:  Monday – Friday    8:00 a.m. – 5:00 p.m.
644 19th Street West, Jasper, AL  35501
Office:  205-221-4010      fax:  205-387-8125
email:  [email protected]
WALKER COUNTY TRANSPORTATION SYSTEM PROVIDES SERVICES FOR WALKER COUNTY RESIDENTS.  WE PROVIDE TRANSPORTATION THROUGHOUT THE ENTIRE COUNTY BASED ON A DEMAND-RESPONSE SYSTEM.  IF YOU NEED TRANSPORTATION SERVICES, CALL US 24-HOURS IN ADVANCE AND SCHEDULE A PICKUP AT 205-265-3989.